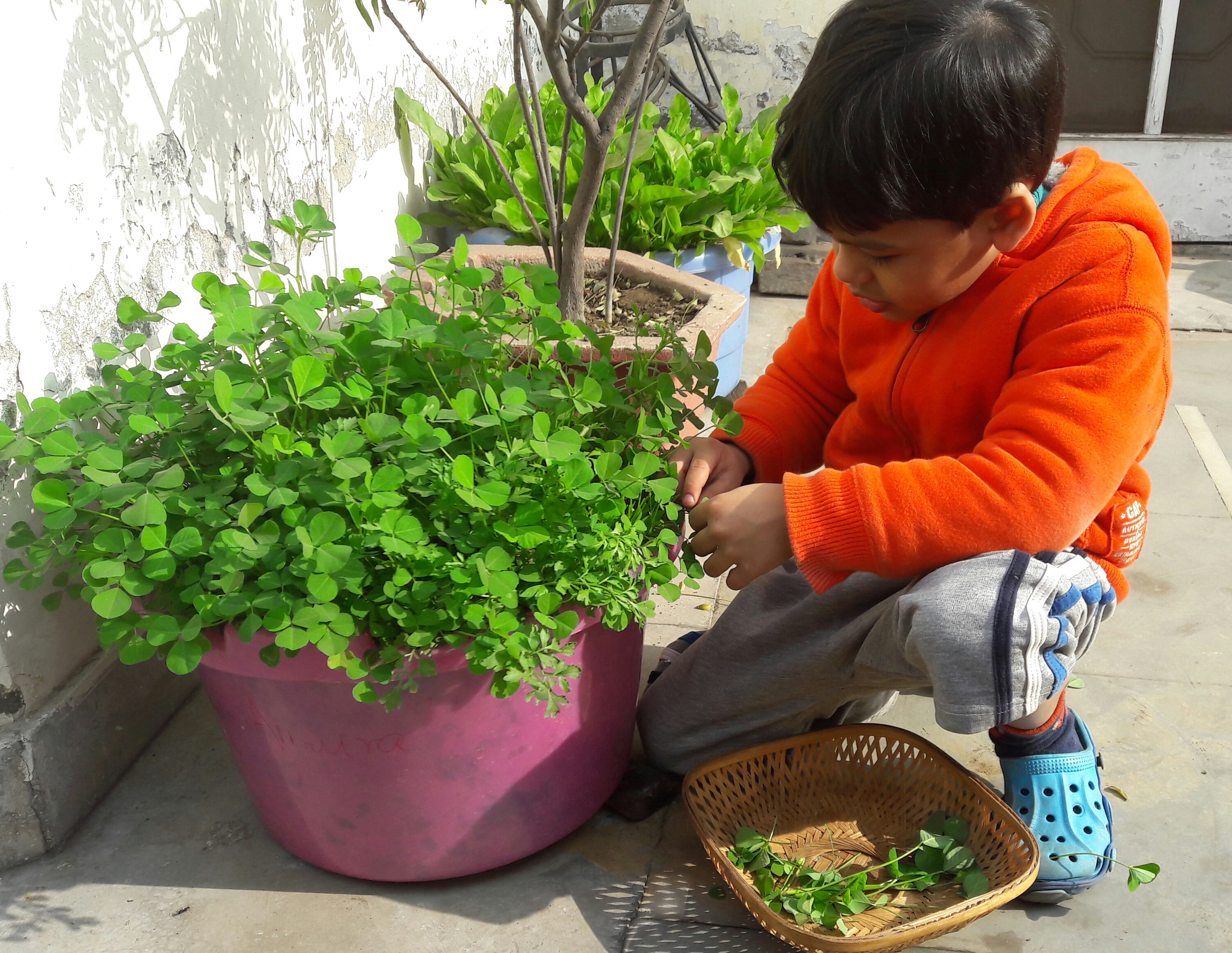 5 year old child, Krishnav Jain, from India celebrated International Year of Pulses by actively participating in learning and understanding the concept of growing pulses and its nutritional benefits by planting them in his own backyard.
Written by Mayur Jain, Rashi Jain, and Krishnav Jain, from Uttar Pradesh, India.  
We all can play an important role in supplementing our nation by growing pulses in our back garden. My five year old son Krishnav Jain insisted me to explain why we can't grow food we eat in our own backyard. We decided to grow Lobia and Moong daal and my son was actively and eagerly involved in the whole process, he also participated in the school play titled 'Seed that Grew'. Along with pulses we have also grown green vegetables spinach and fenugreek (methi). A small seed growing into a proper tree and giving us nutritional benefit was an enriching learning experience for my son and this has been instrumental in making him understand the importance of cosmic nutrition. He understood pulses are a vital source of plant-based proteins. They are also an important source of plant-based protein for animals. In addition, pulses are leguminous plants that have nitrogen-fixing properties which can contribute to increasing soil fertility and have a positive impact on the environment.
This may appear to be a symbolic gesture but if you take India's huge population and if everyone can be motivated to contribute it will help our nation.
We take this opportunity to thank United Nations for providing us all the guidance and support and his vision to heighten public awareness of the nutritional benefits of pulses as part of sustainable food production aimed towards food security and nutrition.
As a parent we have played our part, let's join our hands together and work in making INDIA a Cosmic Pulses Nation.